the story of a lady and a young woman
Homemade Bakso (Beef Ball)
Filed under: Daging | Tags: | May 30th, 2007
Post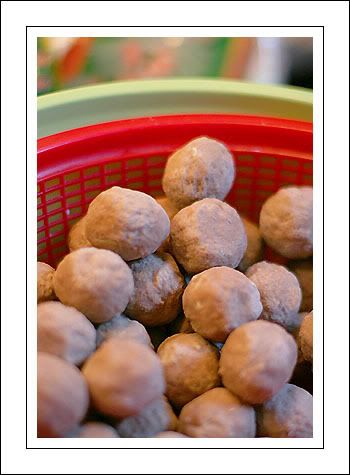 There is nothing that could compare how happy I was last week – since I managed to make myself a nice 'bakso' or beef ball. I have tried so many recipes when I was still in Myanmar however the texture was always too soft. Maybe it was because of the tapioca flour which I used over there was not as good as here and the recipe.
This time, I followed the famous bakso recipe of Ibu Estherlita, thank you so much for sharing us the recipe ya.
Ingredients:
2 kg daging paha yang sudah digiling/mince 3 kali.
60 gr bawang goreng
50 gr bawang putih cincang (mentah)
60 gr bawang putih goreng
50 gr garam
30 gr gula pasir
15 gr merica
20 gr vetsin (kalau suka)
200 gr kanji
4 butir telor
2 sdm baking powder
2000 cc air + 2 bungkus kaldu sapi instant atau kaldu/ air rebusan tulang iga atau tulang sengkel dengan sedikit garam, agar basonya lebih gurih.
Directions:
1. giling 3 macam bawang plus, garam, gula dan vetsin sampai halus.
2. Dalam baskom campurkan bawang yang sudah halus dengan telur dan daging yang sudah dalam keadaan dingin (dari lemari es semalam). Uleni dengan tangan, asal campur saja.
3. Bagi daging dalam beberapa bagian, masukkan dalam Food Processor (FP)setiap bagiannya, giling sampai lembut.
Jangan terlalu banyak masuk dalam FP agar hasilnya bagus.
4. Dalam baskom setelah semua halus, masukkan juga kanji/sagu, dan baking powder , uleni lagi sampai tercampur rata.
5. Bagi dalam beberapa bagian, giling dalam FP sampai semua bahan tercampur rata.
6. Simpan dalam lemari es selama minimal 6 jam.
7. Bulatkan baso dengan bantuan telunjuk dan jempol, dipotong dengan sendok, cemplungkan pada air yang sudah hampir mendidih
Jaga agar air tidak sampai mendidih, apinya sedang saja
8. Masak Baso hingga mengapung, angkat dan tiriskan.
Source Recipe : Ibu Estherlita's