the story of a lady and a young woman
(Seri #67) : Photo Bercerita
Filed under: The story behind | Tags: | April 9th, 2007
Post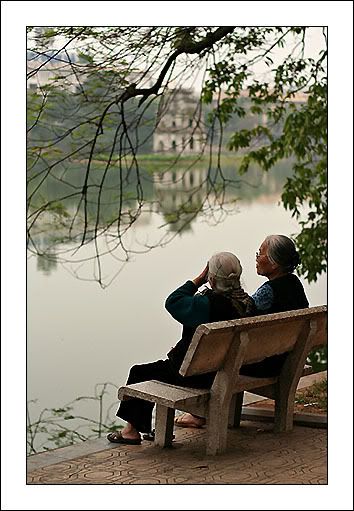 Click photo for better viewing
Judul : Bincang Sore
Chà o ! (Hello !)
This is my first post since I arrived in Hanoi, last Wednesday 4th April 2007.
Today, I managed to roam around the city a little bit and of course went the famous Hoan Kiem Lake in which located in the heart of Hanoi. The lake is one of the must-visit places if you pop in the greenish city of Hanoi.
Hoan Kiem Lake means "The Lake of the Restored Sword", referring to a 15th-century legend in which the nobleman Le Loi, who fought for the Vietnamese against Ming China, received his sword from a magic turtle living in the lake. The nobleman defeated the Ming and returned home in victory. One day, the emperor was boating in the lake when the turtle surfaced demanding the sword's return. In memory of this event, the emperor built the Tortoise Tower on an island at the south end of the lake. Enormous turtles still live in the lake today. (More info on this lake is here)
Somehow the city of Hanoi reminds me of Bandung especially the weather is now so pleasant in which ranging from 18-22 degrees.
I took the above picture at Hoan Kiem Lake, the ladies were simply enjoying the afternoon chit-chat by the lake. You may see the legend Tortoise Tower in the far right distance from where they sit.