the story of a lady and a young woman
Tips : Mempercantik Kaos Kaki dan Jepit Rambut si Upik
Filed under: We are Mommies | Tags: | June 17th, 2007
Post
Published in : We are Mommies Homepage
Date : 12 April 2007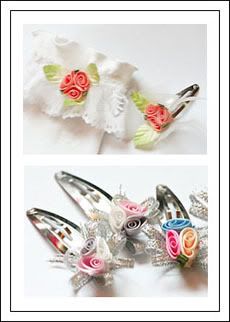 Lihatlah photo di samping ini. Cantik sekali kaos kaki dan penjepit rambut si Upik bukan ? Selain murah, mudah dalam proses pembuatan dan yang paling penting hiasan ini memberikan kepuasan tersendiri ketika melihat buah hati kita memakainya dan juga akan menjadikan kenangan yang indah ketika si Upik sudah beranjak besar nanti.
Hal pertama yang perlu dilakukan adalah : mampir ke toko yang menjual keperluan untuk menjahit. Aneka renda, hiasan baju dalam bentuk aplikasi bordir mau pun sulaman banyak sekali dijual. Modal lainnya adalah kaos kaki polos yang berenda dan penjepit rambut model tekan seperti yang terlihat pada photo di atas.
Jahit renda-renda yang telah dipilih sesuai selera Moms pada kaos kaki dengan menggunakan benang jahit. Sama halnya dengan renda yang harus disematkan pada penjepit rambut. Jika bagian dasar hiasan cukup lebar, maka Moms hanya perlu menempelkannya dengan menggunakan lem jenis power glue. Sementara itu jika ukuran dari model hiasannya tidak memungkinkan untuk dilem, jahitlah dengan menggunakan benang jahit agar dapat menempel dengan cantik dan kokoh pada lubang yang ada pada penjepit rambut model tekan tersebut.
Hal ini juga dapat Moms lakukan pada bando si Upik dengan menempelkan hiasan renda dan sejenisnya agar senada dengan kaos kakinya. Selain kaos kaki, penjepit rambut dan bando, hiasan juga dapat Mom lakukan pada baju terusan polos si Upik agar semuanya menjadi senada.
Jadilah sekarang penampilan si Upik yang bertambah cantik dan biaya yang dikeluarkan juga jauh lebih rendah jika dibandingkan membeli kaos kaki, jepit rambut, bando siap pakai yang banyak dijual di pasaran.
Semoga memberikan inspirasi dan selamat mencoba !
(Sylvie Gill)
Sumber : Pengalaman pribadi
Photo : Barang-barang pribadi
————
Ssst… barang-barang di atas punya Kaka Cemara. Pas bebenah mau pindahan ke Hanoi kemarin, lihat lagi semuanya dan beneran bikin Syl tersipu-sipu, ingat jaman dia masih mungil dulu. Ohhh…. If I could turn back the time, I would love to see her wearing all these stuff again ….