the story of a lady and a young woman
Chocolate Chip Muffin
Filed under: Cake | Tags: | May 15th, 2007
Post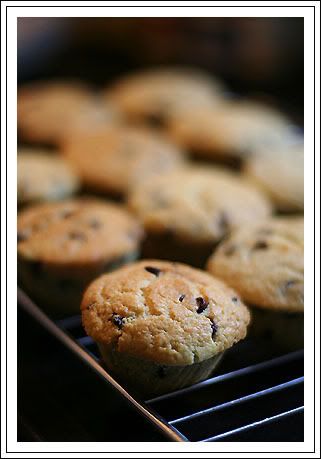 Resep ini diambil dari Dapur online nya Vania, thank you so much for sharing us the recipe ya, Van – resep ini spesial, karena sumber resepnya dari koleksi salah satu buku resepnya Mamanya Vania.
Tapi beneran deh, kalau malas keluarin mixer dan kepingin cemilan yang moist, empuk, dan dijamin yummy! untuk teman minum teh/kopi di rumah – resep ini bisa jadi andalan. Cepat sekali buatnya dan tinggal campur-campur, aduk-aduk aja. No mixer is needed !
Satu resep jadinya 12 muffins – kalau mau buat yang banyak, dimultiple aja resepnya.
Bahan:
1-1/2 cups all purpose flour
1/2 cup white sugar
3 tsp baking powder
1/4 tsp salt
1 cup milk
1/3 cup melted butter
1 egg
1 cup chocolate chips
Cara Membuat:
Mix dry ingredients and add chocolate chips.
Combine egg, milk and butter and stir into flour mixture. Do not beat.
Bake 180 C for 20 minutes.
Sumber Resep : Vania